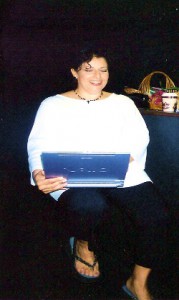 Before moving to South Florida from Chicago in 1993, Lizabeth Solomon planted the first seeds of a novel on paper. In 2001, upon leaving her job, she dedicated herself to trying to finish that book. After sending perhaps the fifth (or fiftieth) revision to her longtime friend and editor, her friend replied with a book from the slush pile at work: Love Warps the Mind a Little. "It's really good, and in the author's notes, he thanks this writers group," her friend noted. Lizabeth has been a devoted member of John Dufresne's Friday Night Writers since.
Lucky grew from an observation while shopping at the Publix at Hollywood Circle (Florida), though the story takes place in Chicago. If not an active participant of the Friday Night Writers, Lizabeth doubts that Lucky ever would have been more than a passing pondering or unfinished rendering, attesting that the telling of this tale was both inspired and improved by the writings and feedback of her peers.
Lizabeth has written articles for local Chicago and South Florida publications as well as the Chicago Tribune and its syndicate. She continues to work on rewrites to her many-times-revised novel. This is her first published short story.
Lizabeth's story in the upcoming book Everything Is Broken is entitled Lucky.