We offer quality printing services on a wholesale basis to our authors for trade paperbacks. We believe in a partnership with you, where you have some "skin-in-the-game" with us.  By doing so, you substantially enhance your net royalties realized when you personally offer your books for retail sale.  You pay a wholesale price for the trade paperbacks that you order.
We waive the cost of your Initial Inventory Order of ten (10) trade paperback books.
In traditional publishing for trade paperbacks the usual royalty is 7.5% of the retail sales price depending on author status. With MidTown Publishing Print Services, when you personally sell your trade paperbacks you can realize net royalties ranging from 38% to over 50% of the retail price. We call this the Author Variable Rate Royalty Program. At MidTown Publishing we disclose to you our actual costs of printing and shipping. That's the way a true partnership works. You know our participation, and we know yours.
 An example of reorder costs and potential profits:
• Printed book pages:                                       300
• Printed book suggested retail price:    $14.99 x 10 books = $149.90
• Printed book wholesale cost:                  $ 4.51[1] x 10 books = $45.10+$8.00 Standard shipping+$3.15[2]sales tax+Publisher Discount of $15.00=$71.25
• Author Variable Rate Royalty                 $ 7.86[3]  x 10 books = $78.65 (52.46%)[4] of Retail Price)
If you publish with a traditional publisher the industry royalties for the sale of the $14.99 trade softcover paperback is 7.5% of retail price depending on your status with the publisher, or $1.12 per book, verses 52.46% of the retail price, or $7.86[5] per book when you partner with MidTown Publishing.
Because we are writers, we know what it's like to sit on your side of the table. Usually, you're not given many options, and seldom do you know the real costs associated with your printed books. We think you should. With that knowledge, we are confident you can enjoy substantially greater profits from your work. And, most likely, you'll order more books, sell more books, and be better rewarded for your craft.
HOW IT WORKS
You purchase your printed books directly from us at your wholesale price. You offer your books at venues you choose, including your MidTown Author Profile Page, your Amazon Author Page, MidTown's online bookstore,your website, writer events, book fairs, personal appearances, books placed in independent bookstores, and such other locations as you choose.
ISBN and Barcode
ISBN is an acronym for International Standard Book Number. The purpose of the 13-digit ISBN number is to establish and identify one title or edition of a title from one specific publisher. ISBNs are linked to essential information allowing booksellers and readers to know what book they are buying, what the book is about, and the author. Unlike a Bar Code, an ISBN is a number that acts like an ordering number.
Separate ISBNs are required for a paperback book, casebound (hardcover), and e-book. All e-books published by MidTown Publishing include an ISBN for the digital publication.
For print, MidTown Publishing includes an ISBN with a price add-on that utilizes the Bookland EAN barcode. Commonly known as the EAN-5, it displays two barcodes side by side. Here's an example of a barcode from the back cover of a book recently published by MidTown Publishing: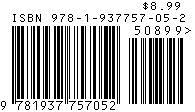 In the image, above, the left barcode is the EAN derived from the ISBN. The smaller barcode on the right is a 5-digit add-on that displays the retail price of the publication. The "5" in the 5-digit add-on reflects the currency for the purchase of the book is US dollars.
Initial Inventory And Reorders
(a) Initial Inventory Order
You will receive ten (10) trade paperback books as the Initial Inventory Order for your personal use. You will incur no costs associated with the Initial Inventory Order.
The Initial Inventory Order is sent from our printer directly to you (or whomever you designate), to our fulfillment warehouse (if we are providing fulfillment or other services for you), or to a distributor chosen by you.
It usually takes approximately ten working days from the time that the Soft Proofs are approved by you to be uploaded to the printer, approved for print, printed, packed, and shipped.
(b) Reorders
Reorders are all orders for copies of your printed book placed by you after the Initial Inventory Order. A minimum reorder of ten (10) books is required. Reorders are processed through your "My Projects" portal in your Authorlog™ Account.
For Reorders, we charge the then current wholesale price. You will always be advised of our actual costs including our publisher's discount of ten (10%) percent of the suggested retail price.
LISTING & DELIVERY OF YOUR PRINTED BOOK.
a. Listing of Print Products for Sale in Amazon Expanded Distribution

This is Amazon's Expanded Distribution that connects authors to retailers, libraries, schools, and distribution partners.  MidTown Publishing has no control over how long it takes for the initial listing of your book to appear in the database, or how long it takes to process any requested changes in metadata after your book has been listed.
b. Listing of Author's Print Product in Bowker's Books In Print
We list your book in Bowker's Books In Print upon publication. Bowker has designed and developed databases, products and services relating to book information for the library, publishing, academic and retail markets. Bowker's Books In Print® databases includes all of their subsets, in all formats and delivery media, including in direct-to-customer electronic data feeds, online, in print and on CD-ROM.
 c. Listing of Author's Print Product with Library of Congress
We list your book with the Library of Congress, including the acquisition of a Library of Congress Control Number (LCCN) for your printed book. The Pre-assigned Control Number (PCN) program assigns LCCN, sometimes referred to as Library of Congress Card Number, to titles that are most likely to be acquired by the Library of Congress.
Once the LCCN is assigned, we print the number on the copyright page of your trade softcover. This facilitates cataloging and other book processing activities for libraries and book sellers who obtain copies of the book.
d. Delivery of Author's Print Product to Library of Congress
We deliver you book to the Library of Congress following publication.
---
1. The print cost per book is $4.51 + $1.50 Publisher Discount +$.80  shipping = $6.81+ sales tax $.315 = $7.125 as of July, 2021. The total cost of your order for ten books would be $71.25.
2. Seven (7%) percent  of printing cost is used as estimated sales tax for costs of goods.
3. Variable Royalty is derived as follows:  $14.99 retail price – ($7.125) wholesale price= $7.86.
4. Variable Royalty/Retail Price as a return on investment. This royalty can only be realized when author personally sells the books. If author utilizes a local bookseller or Barnes & Noble for sales and book readings the variable rate royalty will be substantially reduced, if not eliminated. Such booksellers require a discount of  50% + of sales price.  Does not include additional expenses generally charged by some independent booksellers for book readings.  Does not include admission charges and expenses author may incur when selling at a book fair, or other similar venue.  
5. Additional distribution through Amazon.com Fulfillment Services is handled on an individual basis. If you elect to utilize Amazon's Fulfillment Services, AUTHOR'S Variable Royalty on Print Products will be subject to additional Discounts charged by Amazon.com. Details of the Amazon