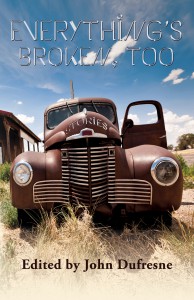 The follow-up to Everything Is Broken has finally arrived! Everything's Broken, Too is now available in both print and eBook formats from MidTown Publishing.
From the editor, John Dufresne:
We had so much fun with our first anthology that we thought we'd do it again. Everything's Broken, Too is our second publishing venture, and the stories inside were chosen from the submissions of past and present participants in our Friday Night Writers group.

These are stories about what we're afraid of, what we're ashamed of, what we can't forget about, and what we don't want to know about ourselves. They are as compelling as they are unsettling: a boy on the verge of manhood, growing up in rural Alabama in the fifties, falls in love with a girl and with stories; a free-spirited entrepreneurial couple go to work for Hawaiian drug lords and find out they may have stepped into a world a bit more violent than they had bargained for; a man living out his dream retirement in Miami Beach gets devastating news from his physician and determines to face his fate with grace and dignity; a young man comes home to Miami Beach to find his destitute and homeless father and discovers an old sweetheart mired in a life of addiction and prostitution; a trip to the dentist is the pretext for a woman's examination of the marital betrayal that has left her bereft and untethered; a young financial analyst who finds himself out of work, out of love, and out of luck is haunted by the childhood abduction and murder of his brother. In other words: something for everyone.
Get your copy of Everything's Broken, Too now from Amazon (print and eBook), Barnes & Noble (eBook), Google Play (eBook), Apple iTunes (eBook), and Kobo (eBook).