IN THE PINK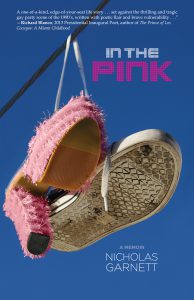 , a new memoir by Nicholas Garnett, is on sale now in print, Kindle, and audiobook formats!
"Fasten your seat belts and take this ride through the A-list, drug-fueled, sex-centric circuit party scene of the 1990's with Nicholas Garnett. Like Bill Clegg's memoir PORTRAIT OF AN ADDICT AS A YOUNG MAN and David Carr's NIGHT OF THE GUN, In the Pink will terrify, startle, and ultimately make you sigh with relief over Garnett's unflinching look at this world and his place in it."
—Ann Hood, New York Times bestselling author of COMFORT: A JOURNEY THROUGH GRIEF and THE KNITTING CIRCLE.
Available in all formats on Amazon.com.