Can you top this?


Enter the Friday Night Writers' "Everything Is Broken" photo contest.  Just submit your photo of an image with the words "Everything Is Broken" cropped inside the picture.
"Everything is Broken" is the brand new book by six Miami authors in John Dufresne's Friday Night Writers.
The winner will receive a copy of the book "Everything Is Broken" along with dinner in a Dania diner with Dufresne and six hungry writers. The diner is at Grandpa's Diner in Dania, Florida. The eatery has been featured on cable TV's popular "Diners, Drive-Ins, and Dives."  In addition, the winning photo will receive a promotional posting on the Friday Night Writer's website. This is your chance to view the work of Miami's up-and-coming authors.
Entry rules are as follows:
All photo submissions must be original photography. No third-party photography will be accepted, especially ones requiring photo fees or release statements. The photos must be your property.
Individuals appearing in the photos must have a signed model release held by the photographer.
Entries should be emailed to

[email protected]

and/or submitted by using the online form, below.
Contest ends 11:59 PM (Eastern Time Zone) April 30, 2014.
All photos submitted should include your name, email address, mailing address, and telephone number.
The winning image will be judged by a select committee of Friday Night Writers and posted on the Friday Night Writer's website gallery by April 30th.  The winner will be notified by email.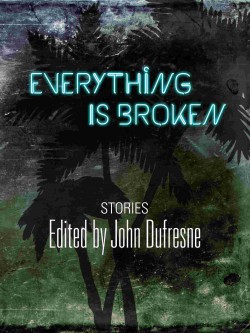 Everything Is Broken
is a hot-off-the-press new book launched in Miami, FL. 
Everything Is Broken
is a collection of stories by six Miami authors, all of whom are active Friday Night Writers. The writers gather under the leadership of celebrated author John Dufresne.  The six short stories represent the output of a talented literary group that meets regularly on the campus of Florida International University.
Everything Is Broken
is conveniently downloadable in eBook format from
Amazon
,
Google Play
Apple iBookstore
,
Barnes & Noble
, and
Kobo Books
.
Contest Submission Form
* Required fields